Moon Map for Southern Hemisphere
This map depicts the Moon as it will appear from the southern hemisphere on October 16, 2021, the date of International Observe the Moon Night. Many of the best views will occur along the terminator (the line between the day and night side of the Moon).
For even more highlighted features, see our Moon Maps downloadable resource page.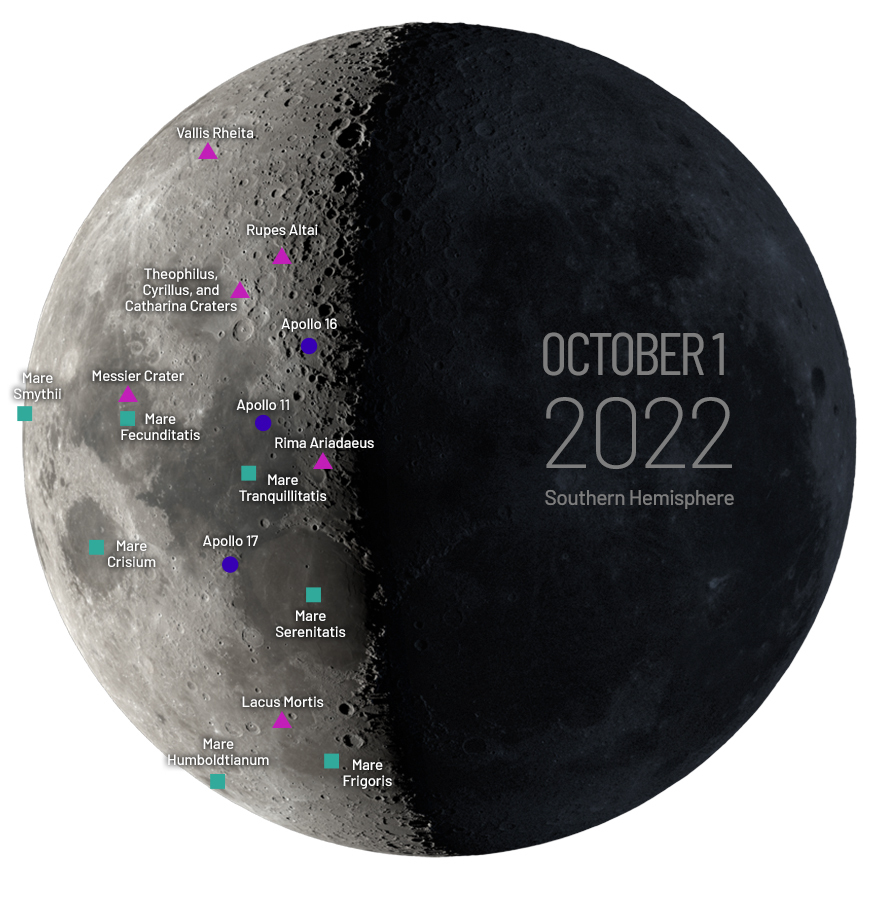 Lunar Maria (Seas)
+ more
Mare Humboldtianum (Humboldt's Sea)
This mare was named after German naturalist and explorer Alexander von Humboldt (1769-1859) and is one of only two maria named after people. The moon's wobble, called libration, can sometimes hide the sea from view.
---
Mare Imbrium (Sea of Rains)
This lava-filled impact basin is the second largest mare on the near side of the Moon at 697 miles (1,123 km) across, a little more than the distance between New York City and Louisville, Kentucky.
---
Mare Serenitatis (Sea of Serenity)
Basalt covers a majority of this mare, which features the crater Posidonius on its northeast rim. Apollo 17 astronauts landed near the eastern edge of the Sea of Serenity on December 17, 1972.
---
Mare Tranquillitatis (Sea of Tranquility)
Famous for being the site of the Apollo 11 landing and moonwalk, the Sea of Tranquility is rich in metals, including titanium, thought to be created when an ocean of magma that once covered the surface crystallized.
---
Mare Crisium (Sea of Crises)
The Sea of Crises, location of the 1976 Soviet sample return mission Luna 24, covers over 109,000 square miles (176,000 km) of the lunar surface ― about the size of Nevada.
---
Mare Fecunditatis (Sea of Fertility)
The Sea of Fertility impact basin was the site of the first automated sample return, taken by the Soviet Luna 16 probe in 1970. This mare is a little over 500 miles (804 km) in diameter but less visually distinct than other, similarly sized lunar mare.
---
Mare Smythii (Smyth's Sea)
One of the youngest impact basins, Smyth's Sea has an average depth of about 3 miles (5 km) below the surrounding surface and some unusually dark lava surfaces. The second mare named after a person, it references British astronomer William Henry Smyth (1788-1865).
---
Mare Nubium (Sea of Clouds)
The Sea of Clouds is a large, ancient, irregularly shaped area that looks to have formed through a number of major impacts. Evidence of four major basin rings is still identifiable.
---
Telescopic Treats
+ more
Sinus Iridum
"Bay of Rainbows," is a bay along the northwest edge of Mare Imbrium. This 161-mile-wide (260 km) crater's floor was once flooded with lava. Its north and west rim forms the Jura Mountains.
---
Gruithuisen Domes
These lunar volcanoes, reaching about a mile (1,600 m) high, are unusually tall and steep for volcanoes on the Moon. They seemed to be formed by lava that was particularly thick and pasty.
---
Harbinger Mountains
Tonight we see the Harbinger Mountains just after they have experienced sunrise. This small range measures about 59 miles (95 km) long and reaches heights of about 1.2 miles (2 km). Larger telescopes show volcanic vents and channels on the range's western edge.
---
Copernicus Crater
Copernicus is a magnificent 57-mile-diameter (93 km) crater with terraced walls, a flat floor, and a group of central peaks towering almost a mile (1,200 m) above the floor. The crater is over 2.2 miles (3,700 m) deep.
---
Gassendi Crater
This 68-mile-diameter (110 km) floor-fractured crater lies on the northern rim of Mare Humorum. It had its floor pushed up by magma rising from below. Larger telescopes will reveal a network of fractures across the crater floor.
---
Schiller Crater
Near the Moon's edge, all craters appear oval and foreshortened. However, Schiller is actually very elongated, measuring 111 x 43 miles (180 x 70 km). It was likely formed by the impact of an asteroid striking the ground nearly horizontally.
---
Apollo Sites
+ more
Apollo 11
The first human landing site was on the smooth flat plains of the Sea of Tranquility. Despite how flat the area looks from Earth and from lunar orbit, astronauts Armstrong and Aldrin had to maneuver their lander in the last minutes of their descent in order to avoid a field of giant boulders.
---
Apollo 12
In November 1969, a pinpoint landing brought astronauts Conrad and Bean down right next to the robotic Surveyor 3 spacecraft, which had landed there in April 1967. The astronauts collected samples of material blasted from the formation of Copernicus Crater over 217 miles (350 km) away and 800 million years ago.
---
Apollo 14
Astronauts Shepard and Mitchell landed in a broad expanse of low, rolling hills in February 1971. Rock samples returned by the mission told the story of how this landscape was formed nearly 4 billion years ago by deposits of debris blasted from the formation of the basin now occupied by Mare Imbrium.
---
Apollo 15
In July 1971, astronauts Scott and Irwin landed at the edge of Mare Imbrium at the base of the towering Apennine Mountains. Driving their rover across the mare and up the lower mountain slope, they gathered samples from the dark mare plains and the surrounding, light lunar highlands.
---
Apollo 16
This was the first and only mission to land in the rugged lunar highlands. In April 1972, astronauts Young and Duke collected rock samples more than 4 billion years old. These showed that the ancient lunar crust formed from rock that crystallized and floated to the top of a global lunar magma ocean.
---
Apollo 17
The final Apollo mission to land on the Moon visited the spectacular Taurus-Littrow Valley, deeper than Earth's Grand Canyon. In December 1972, astronauts Cernan and Schmitt (the first professional geologist on the Moon) explored an active fault scarp, a gigantic landslide deposit, and brought back samples including beads of volcanic glass erupted in an ancient lunar fire fountain.
---
Note: Detailed images are from NASA's Lunar Reconnaissance Orbiter.