International Observe the Moon Night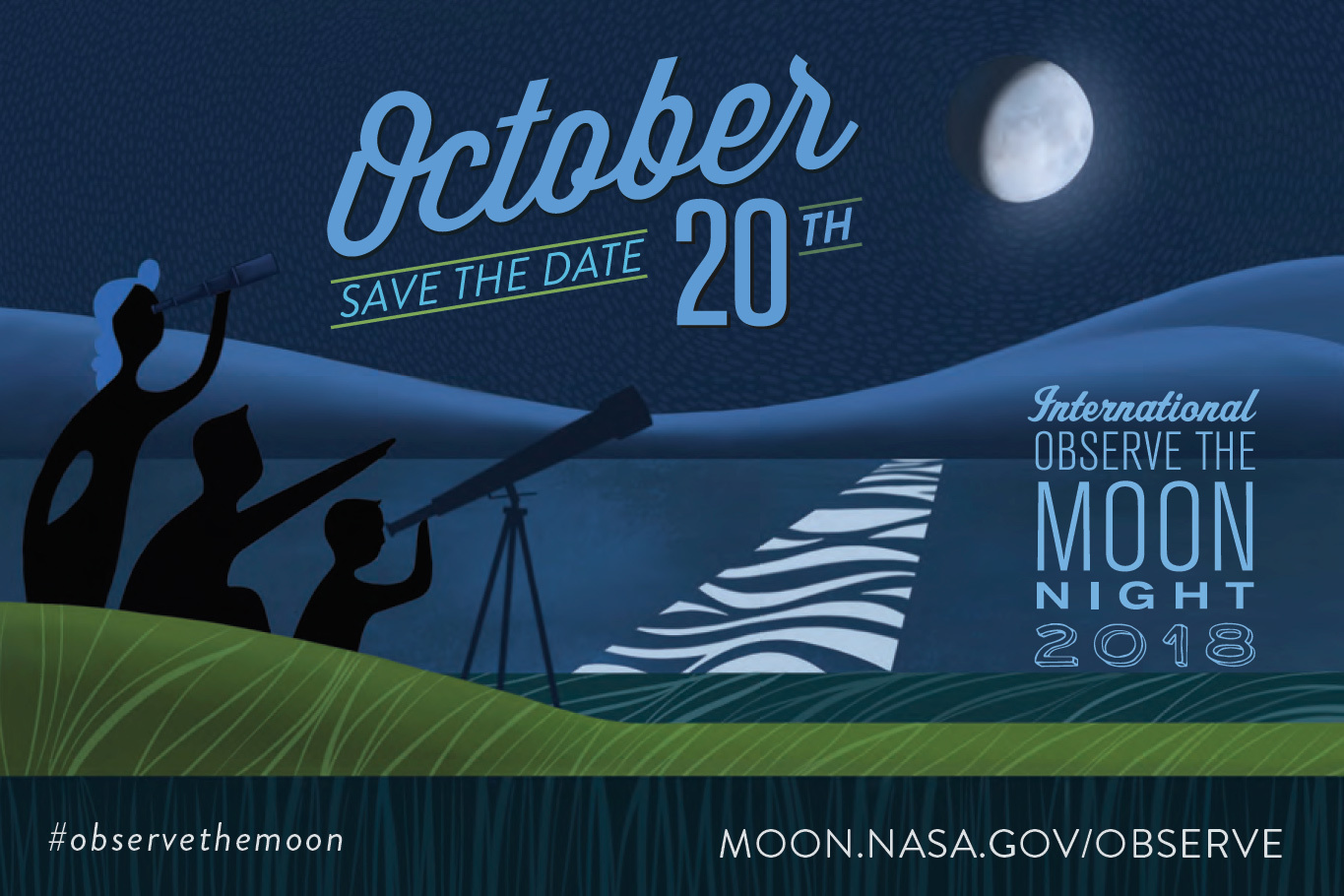 Editor's Note: Due to the overwhelming interest in International Observe the Moon Night, our registration system experienced an outage from 19:00 UTC Oct. 20 until 10:00 UTC Oct. 21. If you registered your event during that time period and did not receive a confirmation email, please register again so that we can include you on the map of lunar observers worldwide and send a pre-release image from the Lunar Reconnaissance Orbiter camera.
International Observe the Moon Night is a worldwide celebration of lunar science and exploration held annually since 2010. One day each year, everyone on Earth is invited to observe and learn about the Moon together, and to celebrate the cultural and personal connections we all have with our nearest neighbor.
The event occurs in September or October, when the Moon is around first quarter. A first quarter Moon is visible in the afternoon and evening, a convenient time for most hosts and participants. Furthermore, the best lunar observing is typically along the dusk/dawn terminator, where shadows are the longest, rather than at full Moon.
2018 Event
There are currently 1143 events and participants.
Do you plan to observe the Moon for International Observe the Moon Night? Whether you are hosting an event or simply looking up, make sure to register your participation for full access to the latest resources and news. Find more astronomy events in the US for this night and all year long through the NASA Night Sky Network.
Apollo 50th Anniversary
1968 marks the first time humans visited the Moon, with Apollo 8. The anniversary presents an opportunity to discuss past, present, and future lunar and planetary science and exploration and to celebrate all of the people who participated and shared in this human triumph.
About the Event
International Observe the Moon Night is an annual worldwide public event that encourages observation and appreciation of the Moon. All are invited to observe the Moon, learn about NASA planetary science and exploration, and celebrate cultural and personal connections to our nearest neighbor. Each year, thousands of people participate at museums, planetaria, schools, universities, observatories, parks, businesses, and backyards around the world. Anyone can participate. All you need to do is look up! Any astronomy club, interested group, or individual can host an event; events range from small family gatherings to community events that draw hundreds of visitors!
Plan Ahead
Upcoming dates for International Observe the Moon Night
October 20, 2018
October 5, 2019
September 26, 2020
Quick Links