International Observe the Moon Night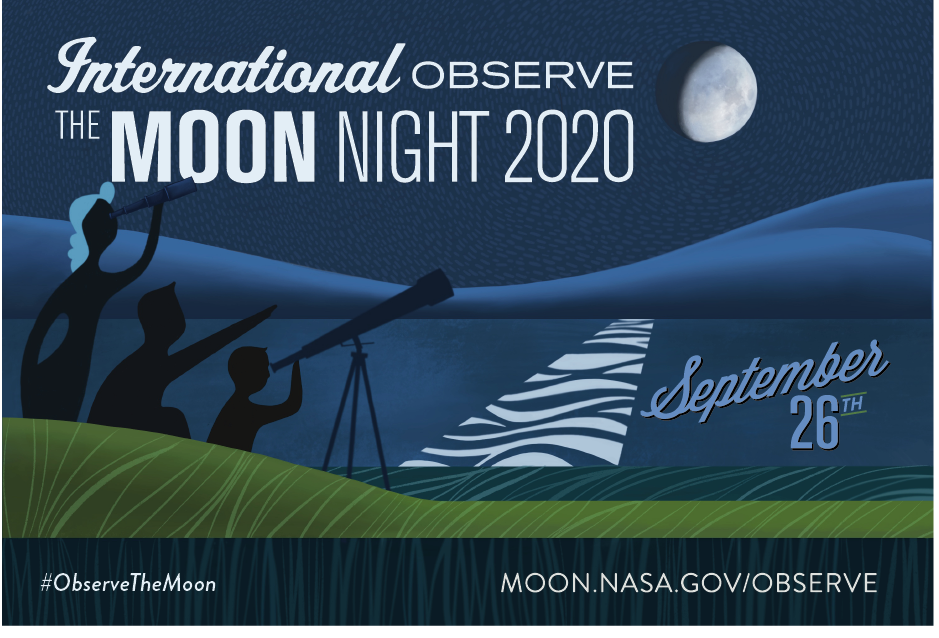 International Observe the Moon Night is a time to come together with fellow Moon enthusiasts and curious people worldwide. Everyone on Earth is invited to learn about lunar science and exploration, take part in celestial observations, and honor cultural and personal connections to the Moon. Note that we encourage you to interpret 'observe' broadly.
Were you planning to host an in-person event this year? Try hosting a virtual one. We are updating our resources to better serve you at this time.
U.S. observers: Please participate safely and responsibly in adherence to local and CDC guidelines, which can include social distancing, hand washing, and face coverings.
International observers: Please follow local laws and guidelines.
International Observe the Moon Night occurs annually in September or October, when the Moon is around first quarter ― a great phase for evening observing. Furthermore, a first-quarter Moon offers excellent viewing opportunities along the terminator (the line between night and day), where shadows enhance the Moon's cratered landscape.
You can join International Observe the Moon Night from wherever you are. Attend or host a virtual or in-person event, or observe the Moon from home. Connect with fellow lunar enthusiasts around the world through our Facebook page, #ObserveTheMoon on your preferred social media platform, and join the International Observe the Moon Night Flickr group. Outdoors, at home, online, or wherever you may be, we're glad to have you with us. However you choose to observe, please follow local guidelines on health and safety.
2019 Event
Thank you for celebrating International Observe the Moon Night 2019. We had a record-breaking year, with 102 countries worldwide participating!
There were 2113 events and participants.
More About International Observe the Moon Night
International Observe the Moon Night has been held annually since 2010. Each year, thousands of people participate at museums, planetaria, schools, universities, observatories, parks, businesses, and backyards around the world. This year, we encourage you to participate safely and responsibly according to local health guidelines.
This is a time for libraries to feature Moon books, radio stations to play Moon songs, schools to unite around a common lunar theme in art, history, engineering, language, and science classes – everyone can explore the Moon from their own angle.
International Observe the Moon Night is sponsored by NASA's Lunar Reconnaissance Orbiter mission and the Solar System Exploration Division at NASA's Goddard Space Flight Center, with many contributors.
Plan Ahead
Upcoming dates for International Observe the Moon Night
September 26, 2020
October 16, 2021
October 1, 2022
Quick Links