Astronomical League Observing Challenge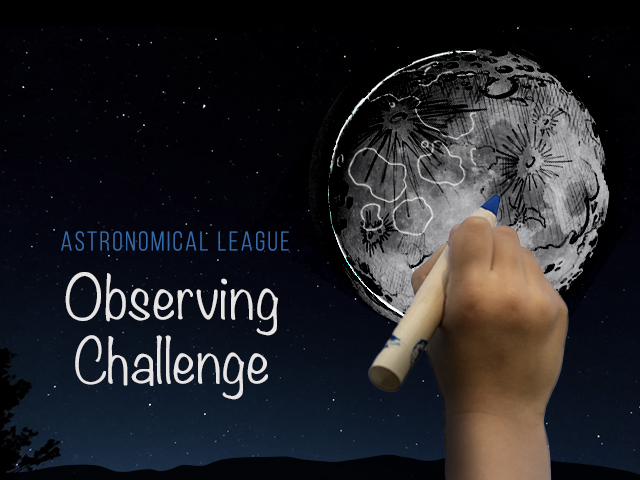 Published:
September 20, 2021
Take on a Moon Observing Challenge from the Astronomical League. This activity challenges you to complete each of the following tasks:
Do an outreach activity. This could be an International Observe the Moon Night event or any activity that encourages observing the Moon in general.
Observe the Moon with just your eyes. No equipment is required.
Estimate the Moon's percent illumination. Not illuminated at all would be 0%, half-illuminated would be 50%, and completely illuminated would be 100%.
Make a sketch or capture an image of the Moon that includes at least ten of the features below. Indicate your chosen features on your sketch or image:

Mare Crisium
Mare Fecunditatis
Mare Frigoris
Mare Imbrium
Mare Nectaris
Mare Nubium
Mare Serenitatis
Mare Tranquillitatis
Crater Copernicus
Crater Tycho
Crater Rays from Crater Copernicus
The Woman in the Moon
For more information about this challenge, and to learn how to submit your sketch or image, visit the Astronomical League website.
Note: You may make your observation any time between October 15, 2021 and October 22, 2021. The deadline for submission is November 22, 2021. You do not need to be a member of the Astronomical League to participate in this challenge.